Name:
Leon Miller
Age:
17
Birthday:
June 7
Gender:
Male
Sexuality:
Homosexual
Height and Weight:
5'11  182 lbs.
Occupation:
Trainer
Appearance:
Leon has somewhat of a strong build. He has thick, short black hair and sky blue eyes. He wears a black and red jacket his father bought him before he left, followed by his worn out gray jeans. Although he's considered very tall to most people, he slouches most of the time which makes him look shorter than he really is.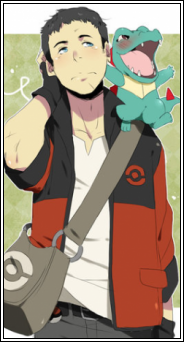 Personality:
Before leaving to Hoenn, Leon used to be a programmer, a terrible on at that. He was still learning the basics of HTML code but stopped to set out to his adventure. He can be very shy at times and blushes at the slightest compliment. He is okay with almost anything, that it makes people uncomfortable sometimes. He also can be very cunning in battle, often pulling out on last trick up his sleeve at the last moment.
Pokemon:
Totodile - Lv.5 - Moves: Scratch, Water Gun, Leer - Male
Likes:
Exploring new places, making new friends, pumpkin pie, reading, and filling up his PokeDex.
Dislikes:
Peanuts due to his allergies, hot weather, and animes that end badly
Motivation:
His dream to become the Champion of the Hoenn Region is enough to fuel his motivation. It often gets him out of depressing times and gets him through hardships.
Other:
His family lives in the Johto Region, though Leon traveled to Hoenn since he wanted to his begin journey there. Obtained his Totodile from Prof. Elm in Johto.