More Forum Rules
Quick Note: We suggest you all to keep record of your Pokemon, Pokemon Levels, Badges etc. in your Signature. It makes it easier to look at vital information while Roleplaying.

Shoot the Admin, me, a PM regarding a topic you would like covered on this post that hasn't been covered already.
----------
Learning Moves
In the Pokemon games, Pokemon can learn a total of 4 Moves, though here your Pokemon can learn 5 Moves. Keep in mind that Pokemon learn moves when Leveling up, same goes here. You still have the choice of replacing moves and such when learning new ones.
----------
Rules on Mega Evolution
With the Pokemon Games X and Y came a new way of evolution, Mega Evolution.
HOW TO GET THE MEGA BRACELET
In order to obtain the ability to use Mega Evolution, you must have a well developed Roleplay. A Mod or Admin will check if you have all these conditions in your Roleplay:
- Roleplay must show develpoment. Ex: Starts off as a new trainer. Roleplays later, now has 4 badges.

- The character receiving the Mega device must have at least 4 badges. Mods/Admins will check.

- Must have a close bond with the Pokemon that will Mega Evolve. Ex: You can't have a newly caught Absol Mega Evolve.
If all these conditions are good, then you'll be approved. You will be given a MegaStone of your choice for free. Others must be purchased at the shop. Stones purchased will be kept in your possession forever and are available for use of your other Original Characters, though they must at least beat GYM 5 in order to obtain the Mega Bracelet. Again, an Admin/Mod will need to approve.
----------
Earning/Obtaining Pokemon
When creating your Character, you can only choose one Basic Level 5 Pokemon. There's many ways to earn more Pokemon and even expand the number of Pokemon you can carry. This will explain all the ways to do so.
BUYING POKEMON
Here's how buying a Pokemon works.
Head over to the Pokemon Center Forum. Somewhere there will be a Forum with the title POKEMON FOR SALE. Sometimes I will post different Pokemon varying in different Levels, Natures etc. The amount of PokeDollars will depend on the Level, for example, a Level 10 Basic Pokemon would cost about 100 PokeDollars. How you Level up that Pokemon or any Pokemon in General is a different matter, which will also be stated on this Forum.
EARNING POKEMON IN EVENTS OR SPECIAL OCCASIONS
Every once in a while I, the Admin, will post a special event or occasion. The prizes may vary, but one possible prize is a Pokemon. This is also one way to Earn a Shiny. There will likely be a fee for entering the competition.
CATCHING POKEMON IN THE WILD
In order to obtain a Pokemon through the wild, you have to make a dice roll! You can make a Dice Roll here: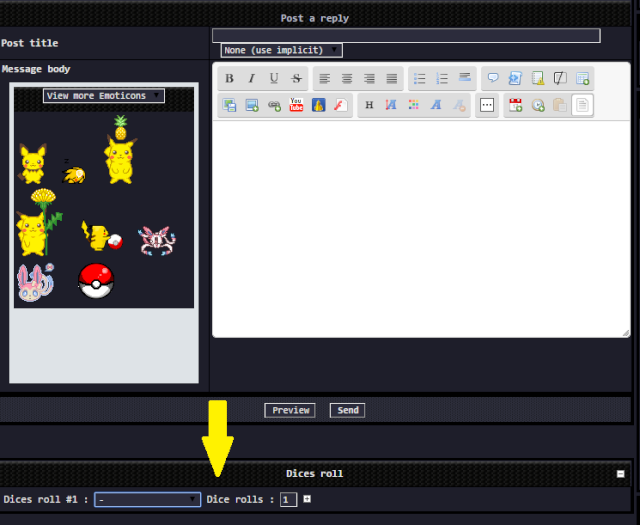 *You are only allowed to roll the Dice 3 Times per Topic, so use it wisely.*
If you get "Capture Success!", then the wild Pokemon you encountered is captured. If you get "Capture Failed", then the Pokemon failed to be captured. If you get 3 failures (3 rolls that result in a failed capture) the wild Pokemon will flee.
----------
Leveling Up Pokemon
In the Pokemon Game, power and experience is determined by Levels. Though in the anime, we don't see those Levels. Here's how Leveling up works.
Levels will be determined by a Pokemon's Leveling Rates. [
A Pokemon's Leveling rate can be found at sites like Bulbapedia, which can be found here.
]

Erratic or Fast Leveling Rate: 2 EXP
Medium Fast or Medium Slow Leveling Rate: 3 EXP
Slow or Fluctuating Leveling Rate: 4 EXP

Example: Gible has a Slow Leveling Rate, meaning that it will level up once it gains 4 EXP.
You can earn EXP by having RP Battles. One defeated Pokemon equals one experience point. Winning a contest results in a 5 EXP Point gain. Notice I said win, meaning you must get First place in a contest.
Quick Note: We ask that you keep record of EXP points, the staff can't do it for you.
----------
Earning PokeDollars
In order to buy things like Pokemon and other stuff, you need to get some money first! The currency used in the Pokemon world is referred to as PokeDollars. You earn PokeDollars by posting on the forum, winning events or competitions and winning the weekly lottery.
~ If you have any more questions about these topics, please ask the Admin or a Mod ~